A comprehensive approach to healing anxiety, depression, and PTSD.
We offer personalized care plans that combine IV Ketamine, IV vitamins and nutrients, expert-guided psychedelic journeys, psychotherapy and ongoing integration coaching. Clinic locations in Marin and Sonoma Counties.
95% of first-time patients return to CIT Clinics for more treatments after their initial session.
83% of CIT Clinics patients report improvements in anxiety and depression symptoms within the first 2 weeks.
IV Ketamine Benefits for Veterans in Northern CA
"I truly believe that treatments like these will change lives."
~ Cameron S, USAF
CIT Clinics offers much more than just Ketamine.
IV Ketamine & Nutrient Therapy
Personalized dosing and duration; Ketamine, Vitamins, Magnesium, Glutathione and NAD+. adjusted to meet your needs each session.
Ketamine Assisted Psychotherapy
Psychotherapy with therapists who are personally experienced and professionally trained to work with psychedelics.
Guided Psychedelic Sessions
Compassionate and experienced psychedelic guides ensuring your safety and maximizing your insights during your Ketamine sessions.
Integration
Coaching
Ongoing behavioral support to help keep you on your path to healing. Cultivate key life skills such as stress management, gratitude and self-care.
Join the many Bay Area clients who have found long term relief through guided Ketamine sessions and Integration Coaching.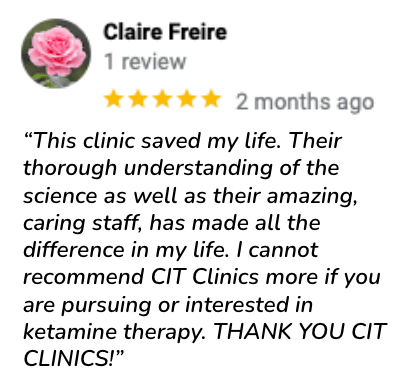 We're ready to support you on your wellness journey!